7 Great Apps For Music Lovers
---
In the crazy era of modern technology we're living in, a smartphone can be transformed in to a powerful tool for any music lover if you know the right apps to download. From karaoke at the touch of a button, to professional singing lessons and DIY lip syncing videos – here are seven fantastic apps that are an absolute must for lovers of modern melody. 
1) Bandsintown – Free
Bandsintown is a clever little app that helps fans keep track of live performances from their favourite artists. When a band announces that it'll be touring in/near your city, the app sends a notification with a link to tickets so that you don't miss the show. There's also a smart discover feature that makes suggestions on other acts you might want to see based on your musical tastes. 

Android: play.google.com
IOS: itunes.apple.com
2) Lucky Voice Karaoke – Free
The best app on the market for karaoke lovers, Lucky Voice gives users instant access to the brand's 9000 strong catalogue of contemporary and classic karaoke anthems. Once installed, users can turn any smartphone, tablet or laptop in to a songstation for karaoke on the go with on-screen lyrics and especially recorded versions of popular songs that are designed for singing along to. 

Only available for IOS: itunes.apple.com
3) djay 2 – £4.99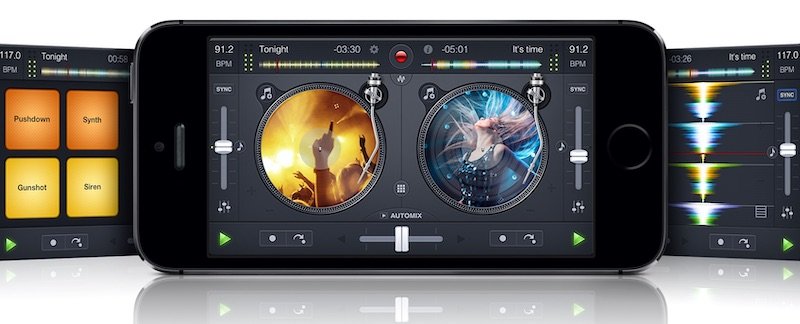 Whether you're the next Calvin Harris or an amateur enthusiast looking to mess about with their Spotify tracks, djay 2 is the only app on the market worth considering for mixing music, turning any device in to a fully tooled up DJ interface. You can perform live, record mixes on the go or use the Automix mode to let the app create a mix for you. Syncs with your music library and Spotify.

Android: play.google.com

IOS: itunes.apple.com
4) TuneIn Radio – Free
TuneIn Radio gives you access to most of the world's radio stations in one place, with access to over 100,000 live stations and 5.7 million podcasts. 

Android: play.google.com
IOS: itunes.apple.com
5) SoundHound – Free
SoundHound is essentially a more powerful version of Shazam. If you're struggling to name a tune, you can play it to SoundHound and the app will let you know exactly what track, artist and album you're listening to along with its release date, full lyrics and an array of personal info on, and recent social media activity from, the artist. And if you haven't got the song to hand, the SoundHound can even identify tracks from singing or humming with a decent degree of accuracy.

Android: play.google.com
IOS: itunes.apple.com
6) Tenuto – £3.99
Tenuto is a collection of 24 technical exercises – covering everything from recognising chords to identifying intervals – that are designed to teach and enhance your musicality. A great shout for aspiring pop stars looking to polish their musical skills. 

Only available on IOS: itunes.apple.com
7) Dubsmash – Free
Dubsmash is a fun video messaging app that lets you send quirky lip sync clips to your friends or post them to Instagram. The app gives you access to an array of different audio clips from popular songs and viral memes, allowing you to put together 24 carat gold mash ups like the below clip of Reese Witherspoon and Sofia Vergara.

Android: play.google.com
IOS: itunes.apple.com
Share this post: