We made 24-hour noise for Make Some Noise!
Last week Global Radio's charity Make Some Noise raised the roof with an event aimed at raising money for disadvantaged children and young people across the UK. Collaborating with Heart and Capital Radio among many more, we were proud to power the karaoke on Thursday at their roof terrace event:
But we decided that wasn't quite enough, so our very own Milo Corke from HQ took on the challenge of a 24-hour karaoke marathon! Starting at 11am on Friday all the way through to Saturday, Milo graced the Soho bar booth for 24 hours and sung round the clock. Inviting anyone and everyone to come down and join in, Milo was never lonely! So many showed their support and made some serious noise for the charity!
What's more, Milo raised (including gift aid) £1,500 for Make Some Noise from the marathon. WOW. We're beyond chuffed with his efforts.  When we inquired about the experience upon finishing, he simply said:
"I will never sing Shake it off by Taylor Swift ever again. Fact."
Miss Swift, if you're reading this, please take no offence. We still think it's a smash hit. 
Here are a few images of the marathon, and once again congratulations to Milo and a massive thank you to everyone who donated, sung along and worked around the clock at the bar to make this all happen.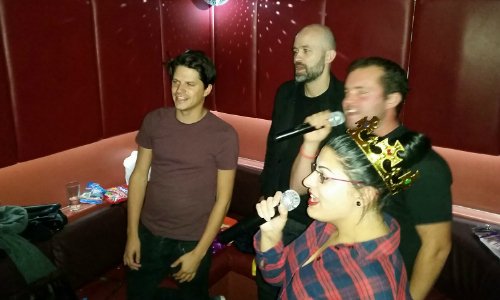 Share this post: